PAST SHOWS
Christmas Concerts 2015
TEMPO – Christmas Concert 2013

TEMPO – SMOOTH AND SAXY

Tempo are delighted to be taking part in this year's Leith Festival with their cabaret show SMOOTH AND SAXY. Relax and enjoy an evening of music, mood and style in an atmospheric setting as Tempo, Fringe award winners, perform a classic selection of songs.

Unforgettable melodies such as - Come Fly With Me, Summertime, The Way You Look Tonight, Just In Time and My Baby Just Cares For Me.

Vocal vibrance and versatility and musical smooth from this choice group of singers and musicians.

Monday 10 to Friday 14 June 2013 at 8.00pm
The Capital Suite
Queen Charlotte Rooms
56a Queen Charlotte Street
Port of Leith
Edinburgh
EH6 7ET

The excellent Capital Suite Bar will be open before
and after each performance and during interval.
The show will run from 8pm to 9.45pm

All Tickets £8

TICKETS ON SALE NOW! Click for details
TEMPO IN THE FESTIVE MOOD
TEMPO present two concerts to coax you into the spirit of Christmastime, featuring popular yuletide songs loved by all ages and made famous by singing legends Bing Crosby, Judy Garland, Dean Martin, Ella Fitzgerald, Elvis Presley .........and many more! Festive fun wrapped up in the most welcome gift of song - come along and singalong! These are fundraising events and we would welcome and appreciate your kind support.
Friday 7 December

7.30pm Leith St Andrews Church

£

7.00 Adults

£

3.00 Children

At the door from 7pm on the evening

Saturday 8 December

7.30pm Duddingston Kirk

£

7.00 Adults

£

3.00 Children

At the door from 7pm on the evening

In advance from the Church Office
FRINGE 2012 PRODUCTIONS
Monday 20 to Friday 24 August at 9.10pm
Saturday 25 August at 7.10pm and 9.10pm
VENUE
The Magnusson Centre for Performing Arts, Edinburgh Academy, Henderson Row

FRINGE VENUE 70b.


All seats unreserved.

THE SHOW
"SMOKEY JOE'S CAFE" is a musical theatrical revue showcasing the wonderful songs of Jerry Leiber and Mike Stoller - the show opened on Broadway on 2 March 1995 and closed on 16 January 2000, after 2036 performances. The Original Broadway Cast soundtrack recording won a Grammy award in 1996 (Best Musical Show Album) and the musical itself was nominated for no fewer than seven Tony awards.
Tempo has assembled a talented and versatile cast of performers who will sing and dance their way through a non-stop catalogue of some of the best songs ever written and recorded, such as "Poison Ivy", "Fools Fall In Love", "Hound Dog", "On Broadway", "Love Potion No. 9", "Jailhouse Rock", "I'm A Woman" and "Stand By Me".
"........a vibrant and nostalgic musical revue ........... this is top-notch entertainment."
"........"Smokey Joe's Cafe" isn't just great pop music, it's compelling musical theatre."
"........ a blessedly plotless revue consisting entirely of heartfelt singing and stylish dance numbers set to the great hits of Leiber and Stoller."
SHOW DATES
Monday 20 to Friday 24 August at 7.20pm
VENUE
We are delighted to be at the
Magnusson Centre for Performing Arts, Edinburgh Academy, Henderson Row
FRINGE VENUE 70b
All seats unreserved.
THE SHOW - MIXED DOUBLES

A comic collective of short dramatic pieces exploring the intricacies, pitfalls and trivialities of marriage. Incorporating works by George Melly and Alan Ayckbourn, amongst others. Experience this acidly humorous, entertaining toast to the institution by Fringe favourites Tempo.
February Production 2012
Acorn Antiques-The Musical! is an Olivier Award-winning musical about an antiques shop, based on the parodic soap opera of the same name by Victoria Wood,

with the intent to give people a "lovely, happy night in the theatre

". It was first staged in London's West
End in 2005, and starred Julie Walters and Celia Imrie. It enjoyed sell out and standing ovation status for its entire run.
Tempo is delighted to announce that Victoria Wood has given permission to us to perform

Acorn Antiques - The Musical!

in our 21st Anniversary Year.
Following a triumphant 16 week sold out season in London's West End in 2005 and a subsequent highly successful National Tour
Tempo presents
ACORN ANTIQUES THE MUSICAL!
Book and Lyrics by Victoria Wood

at the Church Hill Theatre, Edinburgh EH10 4DR
Monday 13 to Saturday 18 February 2012
Evenings at 7.30pm Saturday 18 matinee at 2.30pm
Acorn Antiques was first seen on BBC Television 21 years ago and has been a firm favourite with the nation ever since. We're delighted to have brought it to Edinburgh audiences in 2012.
TICKETS ON NOW! Advance booking and information on 0131 336 5030
or email: info@tempo.org.uk to be included in our mailing lists
Set designed and constructed by Jack Murdoch and available to hire
0141 423 8912 07984 033 413
jackmurdoch@talktalk.net
THE STORY
The musical follows Miss Babs' struggle to keep her antiques business open, as shop after shop in the High Street is forced out by faceless chains…can she afford to turn down the offer from The Guilty Bean (the world's second biggest chain of coffee shops – "We're second so we grind harder") and if they do update the shop, can they still afford to employ Mrs Overall? And will Mr Clifford ever get his memory back, and remember who he's engaged to? And most worryingly, will Mrs Overall be able to tap dance while holding the tray?


"A TIGHT TONGUE IN CHEEK STORYLINE, CATCHY TUNES AND CORKINGLY RUDE LYRICS. A HIT!"

(Independent on Sunday)
AWARDS AND NOMINATIONS
WON Laurence Olivier Award 2006 - Celia Imrie (Best Performance in a Supporting Role in a Musical)
Nominated Laurence Olivier Award 2006 - Victoria Wood (Best New Musical)
Nominated Laurence Olivier Award 2006 - Julie Walters (Best Actress in a Musical)
Nominated What's On Stage Awards 2006 - Celia Imrie (Best Performance in a Supporting Role in a Musical)[10]
Nominated What's On Stage Awards 2006 - (Best New Musical)
Nominated What's On Stage Awards 2006 - Julie Walters (Best Actress in a Musical)
FEBRUARY 2012 PRODUCTION
For our February 2012 show Tempo was delighted that Victoria Wood gave her permission to us to perform

FRINGE 2011
The Funny Nunny Musical

Book, Music and Lyrics by Dan Goggin
FRINGE VENUE 70b
MAGNUSSON CENTRE FOR PERFORMING ARTS
EDINBURGH ACADEMY,
HENDERSON ROW Edinburgh EH3 5BL


22-27 August 7.35pm
Director/Choreographer

Lynne Moyes
Musical Director Simon Hanson


Vocal Director

James McCutcheon


Produced for Tempo Musical Productions by Norma and Kenny Kinnear
THE SHOW
The Little Sisters of Hoboken are staging a benefit concert. Find out why and treat yourself to an evening of heavenly humour
and divine musical mirth. Sister Act, eat your heart out! It'll be a sin to miss!
THE CAST
Norma Kinnear

as Reverend Mother, Sister Mary Regina


Gabrielle Pavone

as Sister Mary Amnesia


Lesley Ward

as Sister Mary Hubert


Mairi Beaver

as Sister Mary Leo

Niloo-Far Khan

as Sister Robert Anne






February 2011
GYPSY is a 1959 musical with music by Jule Styne, lyrics by Stephen Sondheim, and a book by Arthur Laurents.
Adapted from Gypsy Rose Lee's own book "GYPSY - A Memoir", this Tony Award-winning show is considered by many critics to be the greatest American musical ever written.
The show storyline focuses on Gypsy Rose Lee's own mother, Rose, whose name has become synonymous with "the ultimate show business mother." In particular, it follows the dreams and efforts of Rose (played by Norma Kinnear) to raise two daughters to perform onstage and casts an affectionate eye on the hardships of showbusiness life. The character of Louise is based on Gypsy Rose Lee herself (played by Alexa Brown) and the character of June is based on Lee's own sister, the actress June Havoc (played by Mairi Beaver).

THE RUN

GYPSY

is rarely performed by amateur theatre groups.
It has all the essential ingredients of a classic musical, and more – great songs, various styles of dancing, show routines and set pieces - and even a performing pantomime Cow, called Caroline! The musical contains many songs that have become popular standards, including "Everything's Coming Up Roses", "Some People", "You'll Never Get Away From Me" and "Let Me Entertain You."
Tempo wass delighted to give Edinburgh audiences a rare chance to see this wonderful, highly acclaimed musical.
GYPSY

is more than an entertainment - it was an experience not to be missed!
FRINGE 2010
We are pleased to announce that we have just finished staging two highly successful musical presentations in the Fringe - from Monday 23 to Saturday 28 August, in the Magnusson Centre for Performing Arts, Edinburgh Academy, Henderson Row FRINGE VENUE 70

They were:- the hilarious satire on musical theatre entitled -

"THE MUSICAL OF MUSICALS (THE MUSICAL!)"

and another of Tempo's innovative and acclaimed cabaret productions -

"JUDY AND LIZA - ME AND MY BABY

"

.

We also devised a one man play called

"

EVIL CROSSING

" inspired by Bram Stoker's novel - DRACULA. Please click on the show titles for further information.

OTHER RECENT SHOWS


February 2009 saw our sell-out production of "OLIVER!", then, in August, Susie Dumbreck directed our Festival Fringe presentation of "THE RINK", a rarely seen musical with music by John Kander, lyrics by Fred Ebb (CABARET, CHICAGO) and book by Terrence McNally (THE FULL MONTY). In addition to that we also devised and staged (in the Fringe) a unique compilation of spectacular James Bond Themes, entitled "NOBODY DOES IT BETTER". In October, we were also delighted to be involved with Thyme Productions and to assist them with the launch of "MACPHERSONS RANT", a brand new musical written by John Ward.
February 2010 saw us enter the New Year with a fresh, energetic presentation of the hilarious smash hit musical "HONK!".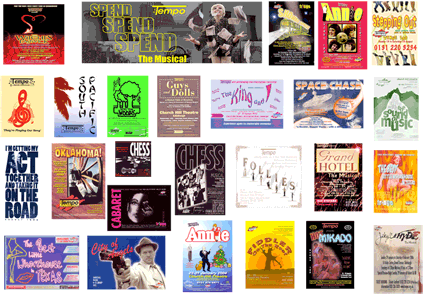 Check out our shows from the past in our Archives pages coming soon! This page is currently being updated.